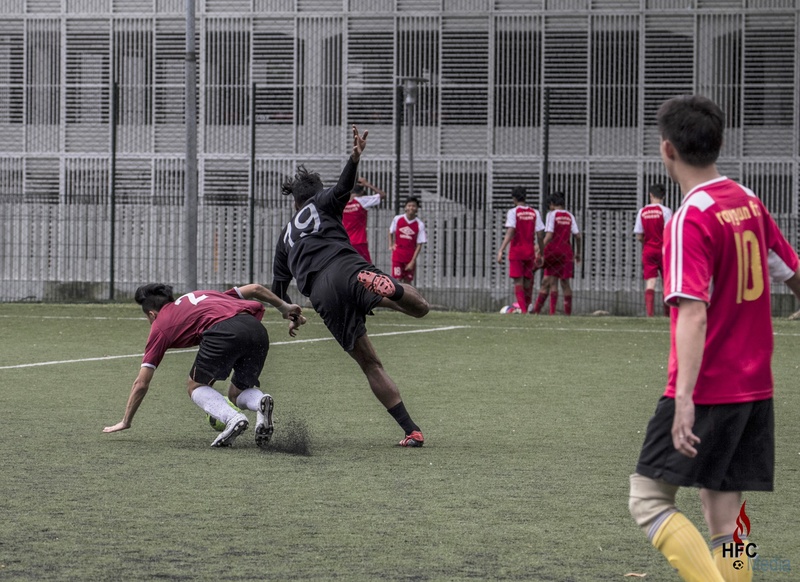 HFC Media File Picture
By Chua Yuxuan
Hilderinc Twā's ill-timed self-implosion against BSP United was a clear indication that there is much work to be done ahead of their debut in the D2D PM League in just about two weeks, prompting much needed soul searching both on and off the pitch.
Unlike previous matches, the Blacks started the game very brightly, stroking the ball around with purpose and for a long time, a sense of urgency was felt within the team, and they could have been two goals up within the first ten minutes if not for some wasteful finishing.
The deadlock was finally broken on the fifteen minute mark after some good link up play saw Sashikumar Mahathevan laid off the ball for Matthew Joseph to go one on one with the keeper, before the latter calmly slotted it into the bottom corner.
Having controlled the match for a good twenty minutes, you could not help and feel that complacency creeping in instead of confidence, and the opponent were allowed back into the game ten minutes before the break.
A well-timed through ball from BSP down HTFC's right flank released their winger and he blasted the ball into the back of the net.
The half time break did little to inspire the Blacks and focus was lost when a scuffle within the team allowed BSP to break away, and unsurprisingly, scored to make it 2-1.
That goal shook the team a little and HTFC lead proceedings thereon, and pulled level when Sashikumar, put through on goal, unselfishly fed Logaraj Sundram for a simple tap in to restore parity.
For all the attacking intent from the Blacks, combination of defensive errors and lack of focus saw the game slip away 4-2.
With two weeks to go before the start of the league, and with a stable squad, the Blacks can be as good as they want to be, but childish squabbles within the squad would have to be sorted out.
As cliché goes, HTFC's own enemy is now themselves.
Final Score
Hilderinc Twā FC 2 : BSP United 4
Goals: Matthew Joseph, Logaraj Sundram
Man of the Match : Joe Kyaw Nyi Nyi Htoo
Starting Line Up
1. Liao Jin Cai JC
2. Nicholas Ledenmark
3. David Zheng
4. Kavin Singh
5. Basil Al Barr
6. Matthew Joseph
7. Joe Kyaw Nyi Nyi Htoo
8. Ian Morris
9. Omar Mahnin
10. Kumeresan Maniam
11. Sashikumar Mahathevan
Substitutes
12. Chua Yuxuan
13. Dennis Lum
14. Logaraj Sundram