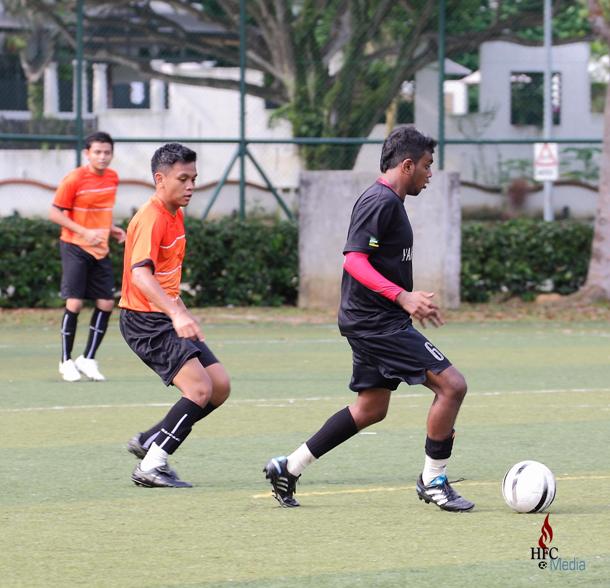 HFC Media File Picture

Report by Chua Yuxuan


Hilderinc Twā Football Club rode their luck against Burmese side Bagan FC to claim their first victory in the SG Merlion Challenge Cup.
With the team's core players forming the bulk of the starting lineup, the primary focus was all about building consistency and forging understanding in their maiden league competition.
The first ten minutes were scrappy and lacking in ideas but Bagan FC nearly took advantage of the Blacks' misplaced passes, along with their lack of urgency and creativity, but were let down by their own lack of clinical finishing.
The Burmese finally took the lead in the 15th minute when a looping ball over HTFC's back four put their winger through, and his first time cross was slotted into the back of the net when the Blacks failed to close down the his teammate.
However, the goal woke the Blacks up and a more controlled midfield display resulted in HTFC drawing level before the break after a neat interplay between Rama Witjaksono and Rahmat Saring saw the latter curled a left foot effort into the top corner.
The second half kicked off with the Blacks looking galvanized as they dictated the tempo while pining Bagan FC in their own half for most periods.
The Blacks took the lead midway through the second half with returning striker Omar Mahnin wining the ball in the opposing half before setting up strike partner Sashikumar Mahathevan for a wonderful volley into the top left corner.
HTFC's hard work was almost undone when a delightful through ball from the Burmese unlocked the Black's defence, putting their striker through on goal, but with his shot beating Gopal Peethambaran, custodian for the day, rightback Parthiban Aruchamy defied all odds to sweep the ball away from the goal line.
Hilderinc Twā almost extended the lead when an ambitious pile driver from Chua Yuxuan almost found the top corner of the net after he was set up by new boy Danial Shafiq, but only to see the Burmese keeper clawing the ball to safety.
Sensing that the game was for their taking, the Black's high tempo game and persistent pressing saw them scoring for a third time.
Man of the Match Darren Tan slotted a delightful pass into the path of Logaraj Sundram, and after some tidy footwork, the number 9 blasted the ball into the top left corner, similar to Sashikumar's earlier strike.
There were some heart stopping moments during the closing stages when The Burmese equalised after an error from Chua Yuxuan.
With the final five minutes seeming like an eternity for those watching from the touchline, the Blacks took a very "Un-Hilderinc" approach by parking the bus as they thwarted Bagan's constant bombardment as they sought the equaliser.
However, a spirited and well organised team display ensured that the Blacks returned home with all three points.
Final Score
Hilderinc Twā FC 3 : Bagan FC 2
Goals: Rahmat Saring, Sashikumar Mahathevan, Logaraj Sundram
Man of the Match: Darren Tan
Yellow Card: Matthew Joseph
Starting Lineup
1. Gopal Peethambaran
2. David Zheng
3. Azman Azmi
4. Kavin Singh
5. Mike De Bear
6. Matthew Joseph
7. Darren Tan
8. Mohana Raj
9. Kumaresan Maniam
10. Rahmat Saring
11. Omar Mahnin
Substitutes
12. Logaraj Sundram
13. Chua Yuxuan
14. Joe Kyaw
15. Rama Witjaksono
16. Sashikumar Mahathevan
17. Parthiban Aruchamy
18. Danial Shafiq