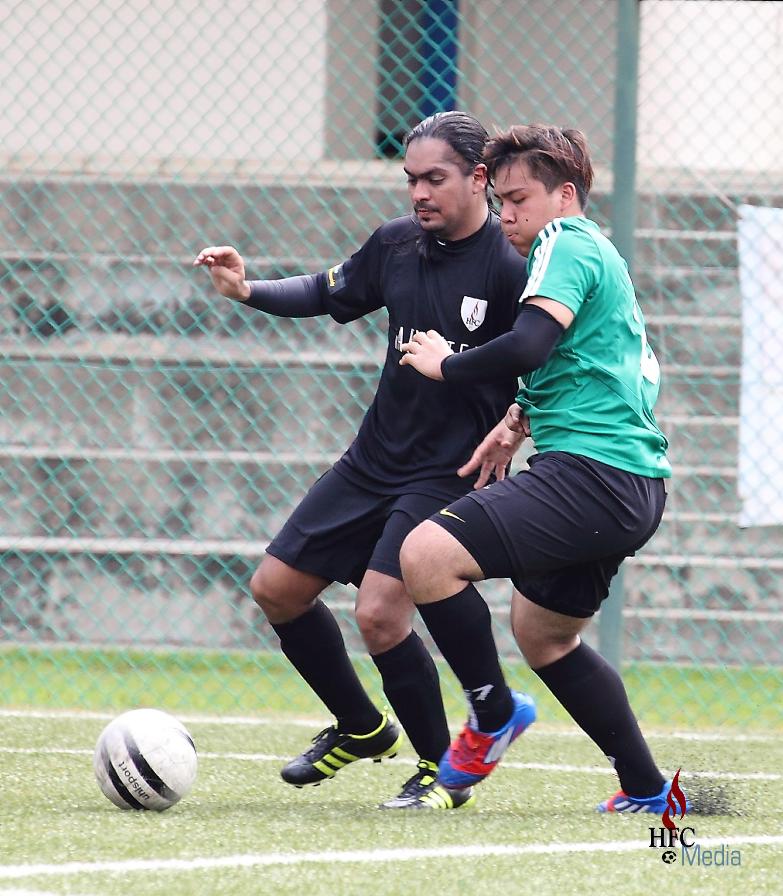 HFC Media File Picture
With the ESPZEN 7s League finding its momentum, it was a quick re-acquaintance with Sengkang Rangers for Hilderinc FC, who were on a sharp learning curve when these two sides met two weeks ago.
However, unlike the previous encounter, the Blacks had picked up a tip or two in playing against a truely bona fide fustal team.
With the Hilderincs evolving in this variation, especially with players specific to the close quarters of the 7s, along with the others, who are closing getting adjusted from their usual forte of the 11s, the benefits taken from it can only be constructive.
However, the Blacks' start against a rampant team had to be modified when Mike De Bear was thrown into the deep end to stand in as the goalkeeper for the opening minutes, and while he was beaten, he soon pulled off an excellent save, befitting any seasoned shot-stopper.
While the best efforts of the Hilderincs rendered some good football, quick goals by the opposition meant that they were always chasing the game.
But tactical changes midway through brought intended dividends and the Blacks were soon on the board after Mike De Bear's fine pass was finished off by an active Chris Lim.
Though the Hilderincs found themselves down five goals to one, the scoreline would have been drastically different, had they finished off at least three guilt-edge chances, but it was to say that debutant goalkeeper Adam Dang was himself in an impressive form to keep the numbers just as that.
With further tweaks during the break, the Blacks were a remarkable outlet against an experienced side, as they put up a sterling contest, matching the endeavours of their opponents, limiting to only one goal against in the second half.
While both teams had one penalty each, first-rate saves by the goalkeepers would be the talking point rather than the misses.
At the end of the day, it was another productive evening as the Hilderincs maintain their objectives of using the 7s to enhance their Saturday and Sunday sides' acuity.
Final Score
Sengkang Rangers FC 6 : Hilderinc FC 1
Goal: Chris Lim
MOM: Edgar Cascan
Starting Lineup
1. Mike De Bear
2. Indika Gayashan
3. Nicholas Ledenmark
4. Patrick Swo
5. Aldrin Julio
6. Edgar Cascan
7. Jit "Zed" Singh
Substitutes
8. Adam Dang
9. Chris Lim
10. Stefan Maxl
Hilderinc Football Club is proudly sponsored by